The Single Page Courses module, added in the Uncanny Toolkit Pro for LearnDash 3.6 release, makes it possible to create courses that have no lessons or topics.
Normally, LearnDash requires that every course have at least one lesson. Lessons and topics are how LearnDash calculates progress in a course and facilitates course completion. For many users, this made microlearning difficult and forced course designers to use a nested structure that didn't always make sense. This module allows courses to consist entirely of a single page.
To create courses that include the course page only, enable the module to add these settings to your course edit pages: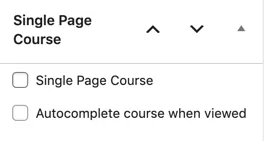 Enabling the Single Page Course when saving the course creates a hidden lesson that is invisible to users, it is not shown in the front end and students won't know it exists. It allows the plugin to make LearnDash think the course has a lesson that users are completing even though they are not.
By default, a Single Page Course adds a Mark Complete button to the course page (since it is just the single page). When clicked, it marks the hidden lesson as complete and reloads the page, thereby completing the course. Everything else works just as a regular LearnDash course would: enrollment is managed the same way, course certificates can be issued, the student and visitor shortcodes work, etc. It is important to make sure that you do hide any content that should only be available to students in a student shortcode, or you could use our Not Enrolled Redirect module to keep all visitors off of the course page entirely.
Single Page Courses also support autocomplete, but this might be set at the course level (see the screenshot above) and is independent of our other autocompletion options. Please note that if autocomplete is enabled while a certificate is associated with the course that a user will have to reload the page to see the certificate. Autocompletion happens just after page load, so it will take a refresh to see the course certificate.