Overview
The Download LearnDash Certificates in Bulk module is part of the Pro Suite of modules for the Uncanny LearnDash Toolkit. Enabling this module and adding the associated shortcode/block to a page will add a form to a page where administrators and Group Leaders can choose a set of certificates to download for a group, course or quiz.
Shortcode
[uo_download_certificates]
The certificate form shortcode can be added to any page. It does not support any attributes.
Generating certificates
To generate certificates in the front end, visit a page that includes the [uo_download_certificates] shortcode as an administrator or Group Leader.
Begin by choosing a certificate type. The Download Certificates module includes support for LearnDash Group, Quiz and Course certificates.
Depending on the type of certificate you choose, you may need to choose a group, course and/or quiz. Make the appropriate selections, and as long as there are quizzes associated with whatever you choose, you will see an option to generate certificates. Click the Generate certificates button to start generating certificates and create a zip file of the PDF files in the background.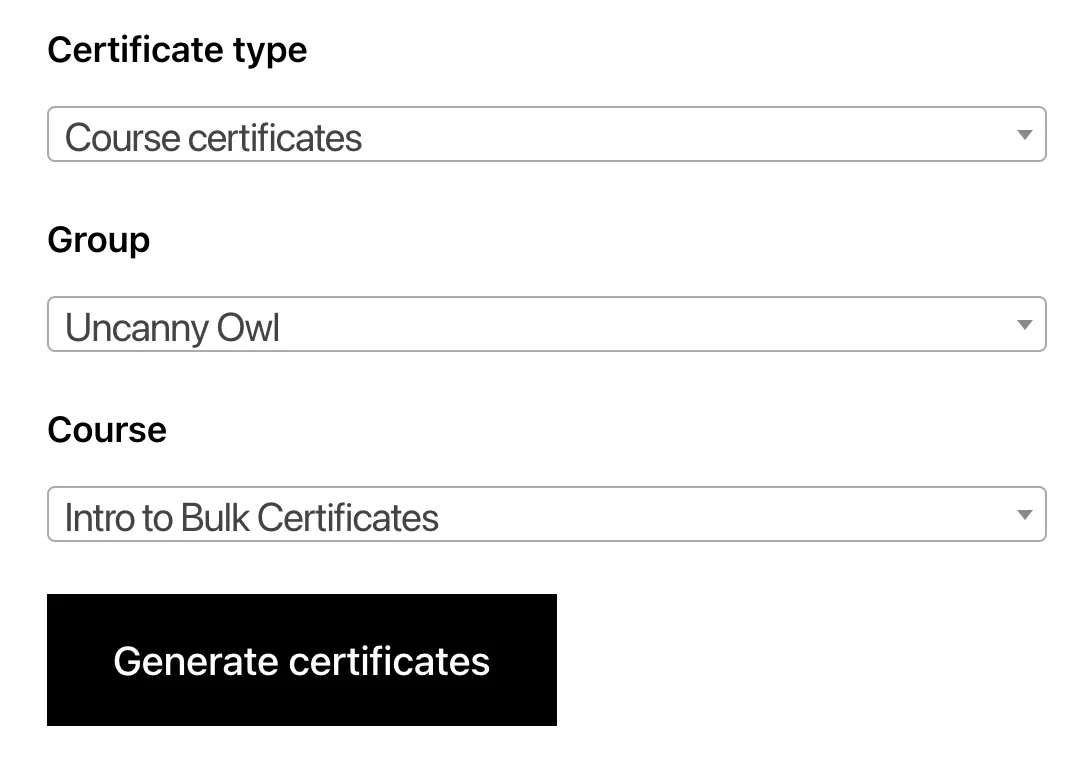 When the zip file including all of the PDF files is ready for download, an email will be sent to the user that initiated the generation with a link to the zip file. This link will expire automatically in 12 hours.
Important: Generating certificates can be a very slow process and it runs entirely in the background. If the zip file includes a lot of certificates, zip file generation might take 10 minutes or longer.
The module itself is generally intended for generating zip files of up to several hundred certificates. There is a higher chance of failure with over 500 certificates in a single zip file. Consider narrowing the filter criteria if the selections are likely to generate a very high number of certificate files.
Module settings
The Download Certificates module includes several module settings related to the site's available space and email settings.
Please note that there are some hosts where we can't reliably detect the available free space. If that happens, the plugin will assume that there is space available and it will proceed with certificate generation.
By default, certificate zip files will be purged automatically after 12 hours. There is also an option in the module settings to purge all certificate files immediately.