Single Page LearnDash Courses now available
LearnDash course structures have always been very straightforward and rigid, which did limit flexibility but also made building courses more consistent. Courses must have lessons, and lessons can optionally have topics. The 3-level hierarchy evolved a bit when LearnDash added sections to organize things, but progress was always based around the completion of lessons and topics. For many users, this was good enough.
For years we heard from people that didn't want to use lessons. Maybe they used micro-learning or all course content was self-contained in a single video; splitting the content up into lessons just didn't make sense. We largely pushed back on such requests because they didn't fit the "LearnDash model", but after building a solution for a consulting client we started wondering what might be possible with a public plugin.
The Single Page Course module
In today's Uncanny Toolkit Pro for LearnDash 3.6 release, we're adding a brand new module that addresses this gap: the Single Page Course module. When enabled, it gives course creators the ability to create LearnDash courses that don't have any lessons. It adds a Mark Complete button to the course level and enables course structures that are simply just that page.
Here's how it works behind the scenes:
When an administrator flags that a LearnDash course is a "Single Page Course", our module creates a hidden lesson that's associated with the course. In the front end, we hide the lesson table and course navigation widget, and even exclude the lesson listing from our Course Dashboard shortcode, so students won't even know it exists. Admins won't either; it doesn't show up as being associated with the course. It's simply a hidden lesson for the course that allows us to use the normal LearnDash progress and completion controls from the course level.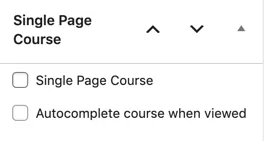 If the "Single Page Course" flag is removed from a course, the hidden lesson gets removed and it can become a normal course. Note that existing courses with lessons cannot be turned into Single Page Courses unless the existing lessons are removed first.
The new module also includes an option to autocomplete the course when the page is visited by an enrolled user. If you associate a certificate with the course, remember that you will need to refresh the page to see the certificate (the completion happens and the certificate would get generated after the page load). Visitor and Student LearnDash shortcodes work as expected with the new module, as do all other behaviours you would normally expect for LearnDash course access.
Perhaps one of the more compelling uses of this module will be with Storyline, H5P, iSpring and Rise assets, so look for support from Tin Canny in an upcoming release. (We need to add support to the completion condition options in that plugin before they can work at the course level.)
Other updates in Toolkit Pro 3.6
We're pleased to add support for Elearning Complete's Certificate Tracker for LearnDash. Thanks Ryk and Patrick! This means that certificate data created by that plugin can now be included in certificates that Toolkit Pro sends by email.
Our Course Dashboard shortcode also gains support for LearnDash Sections. This allows easier organization of course content within the dashboard output.
The Autocomplete Lessons & Topics on Gravity Forms Submission, Simple Course Timer, Import Users and Group Forums with bbPress modules also get some fixes in this release; make sure to check out the changelog at https://www.uncannyowl.com/knowledge-base/learndash-toolkit-pro-change-log/ for full details.
https://www.uncannyowl.com/wp-content/uploads/2020/12/learndash-single-page-courses.jpg
550
1502
Ryan Moore
https://www.uncannyowl.com/wp-content/uploads/2016/04/uncannyowl-logo-600.png
Ryan Moore
2021-01-04 12:58:32
2021-01-04 15:13:52
Single Page LearnDash Courses now available