Our blog has been quiet this quarter, but that's mostly because we've been so busy with updates. And just how busy have we been in Q1? Here's a summary of our plugin releases:
In total, that's a whopping 25 releases this quarter. Many have been pretty big releases too, so in case you missed the updates, we'll cover some of the most exciting highlights below.
Uncanny Toolkit Pro
Our most popular add-on for LearnDash, Toolkit Pro gained a number of new additions.
There's a new module for Autocomplete Lessons and Topics on WPForms submission. We had it for Gravity Forms, now we're extending support to WPForms as well. This is one of our more popular modules and a great way to require users to submit evaluation and feedback forms before course completion.
The Simple Course Timer added 4 new shortcodes. Instead of only outputting time at the course level, now there's a way to show time spent on topics, lessons and quizzes. And there's an additional shortcode to show total time a user has spent across all courses on a LearnDash site.
The Group Expiration module adds support for a new pre-text="" attribute for the [uo_group_expiration_date] shortcode. What this allows is for sites to show a text string before the expiration date, so instead of just showing the date, now it's easy to add context to what it is.
Finally, the Enhanced LearnDash CSV Reports gain support for new CEU and Course Meta columns. Yes, this one is really exciting. Beyond supporting additional records from our Uncanny Continuing Education Units plugin, this means you can pull in course attributes as new columns. So if you 're storing data against courses like instructor name, course identifier, semester, credit value, number of LearnDash steps, or really anything else, now you can include that information in the CSV export with all other records.
Tin Canny
This announcement is going to surprise a lot of people: There is now a tool for administrators and group leaders to analyze quiz questions to assess performance and quality. We call it the LearnDash Quiz Question Analysis Report. Yes, it's for multiple choice ("single choice") question types only, and yes, it's intended for text-based questions and answers. Still, for the majority of sites, that's more than sufficient and it finally provides a way to see, at a glance, how users are answering quiz questions.
This is what it looks like: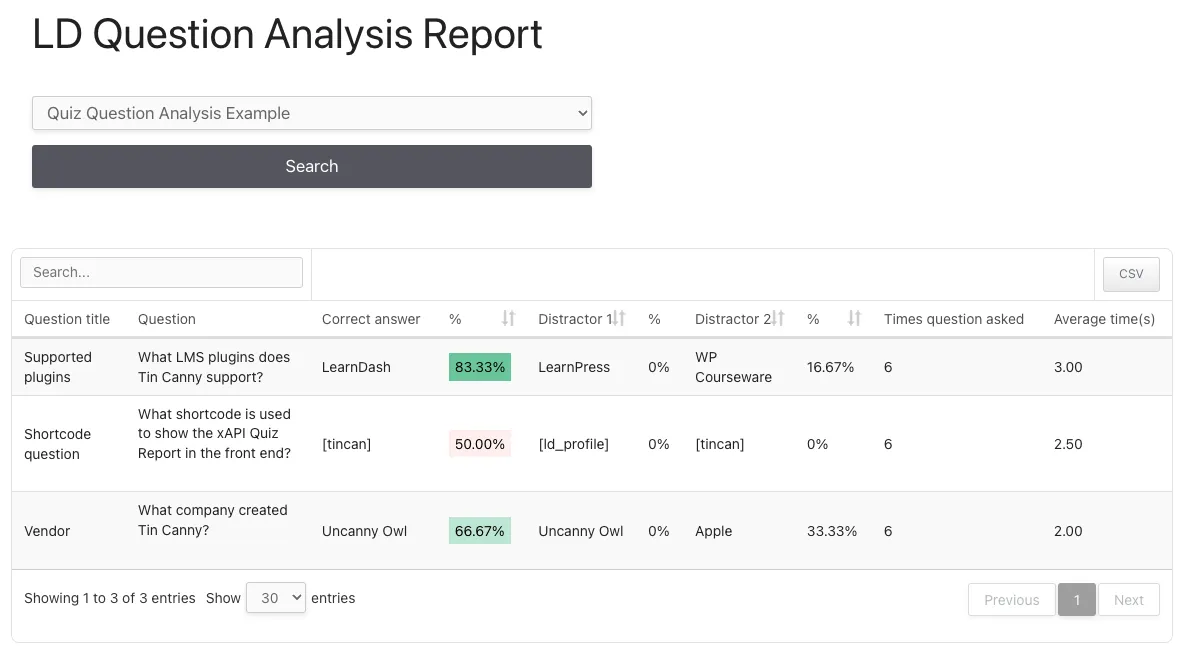 In case it's not clear, the report outputs every supported question in a quiz, the correct answer, the distractors, and the percentage of students that chose each possible answer. It supports search, sorting, and CSV export. For Group Leaders, as you might expect, the quiz list only incudes quizzes associated with courses in the user's groups and it outputs data for students in those groups.
There's no extra cost for this report, it's available now for Tin Canny users.
Other Tin Canny updates this quarter were more subdued. There's a new shortcode parameter to launch uploaded modules to a specific slide, uploaded modules now support defined vw and vh values for better layout control, the group quiz report supports negative scores, and more.
Uncanny Groups
Updates this quarter for Uncanny Groups mostly focused on new developer tools and refinements to existing capabilities. There are 10 new filters, there was an overhaul to how user search works for the Manage Progress report and multiple improvements behind the scenes.
And did we mention that support for adding more seats to subscription-based groups is finally coming in early April? It's almost ready…
Uncanny Automator
Our Uncanny Automator plugins are, of course, where the big magic happened this quarter. And while it's not directly LearnDash related, everything we keep adding to those plugins extends what you can do with LearnDash and opens up countless new use cases for LearnDash sites.
Let's start with the highlights in the free version, and remember, all of these additions happened in Q1:
New integrations or integration support for IFTTT, Integrately, Tin Canny, Amelia, Twilio, MemberPress Courses, GoTo Training and GoTo Webinar.
Over 20 new triggers and actions, plus dozens of new tokens.
A complete overhaul of webhook support, with tons of new data formats plus nesting, JSON and XML support.
New support for updating Google Sheets records, making it easier to build dashboard reports for LearnDash inside Google Sheets.
An overhaul of the integration settings pages for easier management and better education.
And our Pro version gained lots of new features too:
A new integration for OptinMonster.
16 new triggers and actions, including several for LearnDash, like triggering recipes when a user's access to a course expires and being able to remove students and a Group Leader from a group and all of its children.
And that's what we've been up to this quarter. And through all of that heavy development work, our support team still managed to achieve a "happiness" score of 93 in Q1!
https://www.uncannyowl.com/wp-content/uploads/2021/12/uo-blog-plugin-updates-from-uo.png
330
831
Ryan Moore
https://www.uncannyowl.com/wp-content/uploads/2016/04/uncannyowl-logo-600.png
Ryan Moore
2022-03-31 13:17:18
2022-03-31 13:35:42
Q1 2022 Plugin Updates