Tin Canny 3.6: Microlearning for LearnDash xAPI & SCORM courses
It's time for a new Tin Canny update! Version 3.6 adds support for microlearning using Single Page LearnDash courses, more flexible user details in reports, new column sorting options, a more visible X icon for modules in a lightbox and more.
Single page xAPI & SCORM LearnDash courses
Today's Tin Canny 3.6 release adds support for something LearnDash and Tin Canny users have been wanting for years: the ability to build standalone courses with Articulate Storyline, iSpring, H5P and other module types without having to use LearnDash lessons and topics.
What does that mean? Well, with most (non-WordPress) LMS platforms, you can upload self-contained zip files and that uploaded module becomes the entire course. A user sees the course name, launches that uploaded course in a new window or lightbox, and that's it — no digging into lessons or topics first, it's just the course. LearnDash, however, normally requires that courses be structured into a hierarchy of WordPress posts that requires at least one "lesson" beneath a course. The SCORM or xAPI file would then be uploaded inside the lesson or topic, so students would have to click through a "course" level first that sometimes served no purpose.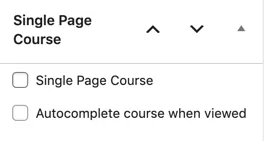 Tin Canny 3.6 adds support for our Single Page Courses module in Toolkit Pro, allowing uploaded SCORM and xAPI files right to the course level while still allowing proper LearnDash tracking. Support is available for these content types:
Articulate Storyline
Articulate Rise
Adobe Captivate
iSpring
H5P
Lectora Inspire
The use of Single Page Courses for microlearning does require that the Toolkit Pro for LearnDash plugin be installed, active, and the module turned on.
Customizable user details in reports
We've seen an increase in tickets with users not wanting to use our default "Display Name" record when we show student names in reports. Many sites would rather use first name and last name, perhaps even hide email address for privacy reasons. Tin Canny 3.6 allows site admins to choose which values and/or columns should be displayed in user listings of the Course and User reports with these settings:

Sort all columns in the User report
Adding the optional "Sort by % Complete" setting to User reports some time ago led to requests for sorting on other columns, as it should. This is still a setting we suggest using with caution on large sites, as there is a slight performance hit on load, but if Enable Sorting by % Complete in Tin Canny settings that all columns in the User report will become sortable. Look for the arrow icons in column headers when accessing the User report to sort by column and show current sort settings.
Other Tin Canny 3.6 changes
To round out this release, here are a handful of other highlights:
The Gutenberg block for Tin Canny content has a new Module ID indicator. This makes it a lot easier to reconcile uploaded modules in LearnDash courses with uploaded modules on the Management Content page in /wp-admin/ (useful when deleting content that's no longer required or replacing modules with newer versions). With our Classic Editor support this was always easy, as the shortcode included the ID, but now management is easy with Gutenberg too.
We improved performance significantly in a recent update but on a very few number of sites (perhaps 2-3%) our old, slower method of tracking was preferred. There's now a switch in the settings to use a compatibility mode if some Tin Canny uploads aren't catching all statements when they're closed.
Error messages are now more descriptive if an error is encountered during a Tin Canny module upload.
The Settings page has been completely reorganized.
The X icon to close modules in a lightbox has been made more visible.
As always, the full changelog is available at https://www.uncannyowl.com/knowledge-base/tin-canny-learndash-reporting-changelog/
https://www.uncannyowl.com/wp-content/uploads/2021/02/Tin_Canny_Single_Page_Courses__Sorting___User_Info.png
374
1295
Ryan Moore
https://www.uncannyowl.com/wp-content/uploads/2016/04/uncannyowl-logo-600.png
Ryan Moore
2021-02-16 10:53:26
2021-02-16 11:15:22
Tin Canny 3.6: Microlearning for LearnDash xAPI & SCORM courses