User Experience Improvements for Uncanny LearnDash Groups
One of the biggest challenges that users of our Uncanny LearnDash Groups plugin face is figuring out how everything works. It's a plugin that started off with quite a basic footprint, but over the last 2 years we have continued innovating and adding some really exciting features. As we have done that, we know that it has increased the learning curve a noticeable amount, both for users of the plugin directly and for LearnDash Group Leaders.
Because of that, the next few releases of the plugin will focus more on user experience. We need to make our giant plugin easier to manage, and that starts with today's release of Uncanny LearnDash Groups 3.4.
The Group Management table
The biggest change in the 3.4 release is to the main Group Management page interface. When we launched the very first version, it was really simple; there was a way to add users and there were simple course and quiz reports. It was simple and uncluttered. Then we added a function to email users, an assignment management page, an essay management tool, a way to manage user progress… and it just got really busy and confusing.
Here's an example of what part of the Group Management table header looked like before Groups 3.4 (this isn't even all of the buttons!) versus today's release.
It's a big change, to be sure, but we think simplifying the UI into menus instead of buttons will make the Group Leader experience a lot less daunting. For existing users, your existing shortcode attributes and settings will all be carried over, so don't worry about these changes disrupting anything you might have customized.
Essay and Assignment Management
Front end interfaces to manage essays and assignments were late additions to our Uncanny LearnDash Groups plugin, primarily because we really don't use them much on our own LearnDash sites. That remains the case, and until we recently worked with a client that does a lot with essay questions (I reviewed one example where a single instructor was assigned 3,000 essay questions to review), we didn't know how inefficient our model was.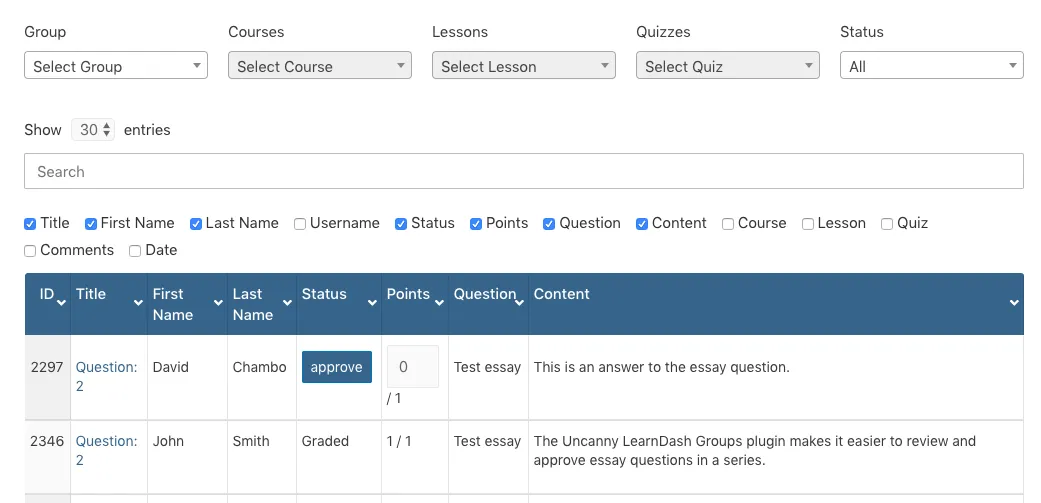 In today's release, we're adding new columns so that you can see a user's answer and approve it right from the list of essay questions. No more clicking to load up a modal and approving it there, now instructors can power through grading activities and turn things around faster.
Because of all of the new columns, we needed to do something with the clutter. Columns can now be turned on or off (with the little checkboxes above the table) and you can drag columns to whatever order you want. The system will even remember what columns users had shown and hidden when they visit the report at a later date. You can even resize the columns!
The filter for Graded and Ungraded should make it a lot easier (and more performant) to see only the types of essay questions you need to review, and First and Last Names columns make searching easier.
Performance improvements
Some of our plugin users really pushed the boundaries of how we expected LearnDash Groups to be used, and in some cases our model didn't perform well on certain sites. We never expected to see groups with over 10,000 seats or thousands of users, and while we still don't think it's a great approach in many situations, the plugin will at least perform better in those situations.
The Uncanny LearnDash Groups 3.4 release is a big one, so make sure to test it on a Staging site before you update and have a look at the changelog for even more updates!
https://www.uncannyowl.com/wp-content/uploads/2019/09/learndash-groups-user-experience.jpg
573
1502
Ryan
https://www.uncannyowl.com/wp-content/uploads/2016/04/uncannyowl-logo-600.png
Ryan
2019-09-25 17:29:25
2019-09-25 17:29:25
User Experience Improvements for Uncanny LearnDash Groups