The most powerful report plugin for LearnDash
From course records to quiz answers, SCORM / xAPI records to H5P, drill down and summary level reporting, Tin Canny does it all. As a reporting tool for LearnDash site administrators and Group Leaders, there are a wide range of front and back end reports to fit every situation. Need to see how many users are enrolled in a course or have completed, or maybe you need to see how often a particular multiple choice answer is selected? Tin Canny can help.
What Tin Canny for LearnDash also offers is the only WordPress native plugin that supports the upload of SCORM and xAPI files to LearnDash, a built-in LRS, and full reporting capabilities for SCORM and xAPI data. With a price point up to 90% less than similar, non-WordPress alternatives, Tin Canny's value is unmatched.
Robust SCORM and xAPI support for LearnDash
Tin Canny Reporting for LearnDash includes a full uploader, LRS and reporting suite for SCORM, xAPI and Tin Can compliant elearning modules. That means it supports popular authoring tools like Articulate Storyline, iSpring, Articulate Rise, Adobe Captivate, H5P and more. It is, by far, the easiest way to add SCORM and xAPI support to your LearnDash elearning site.
Even if you don't use SCORM and xAPI files, Tin Canny supports full drill-down reporting for LearnDash course, lesson, topic and quiz data, plus front end reports for quiz review and question analysis. (Just turn SCORM and xAPI support off if those capabilities aren't needed.)
Here's an overview video that covers the highlights:
Tin Canny is the only plugin for LearnDash with full SCORM and xAPI that doesn't require an external LRS. If you create Tin Can/xAPI, SCORM 1.2 or SCORM 2004 compliant course modules with one of these supported authoring tools, Tin Canny is a must for your LearnDash site:
Articulate Rise, Storyline and Presenter
iSpring
Adobe Captivate
Camtasia
Elucidat
Adapt
H5P
Everything is automatic
Once installed, Tin Canny adds an easy module uploader to the WordPress Editor, and when you upload your modules, the plugin starts capturing your SCORM and Tin Can data. If you use H5P to create content in WordPress, everything is captured automatically—no extra plugins or configuration is required. That's the power of doing everything right inside your LearnDash site.
You can even control progress in your LearnDash courses from your uploaded modules. Maybe learners shouldn't be allowed into the next lesson until they pass a quiz in Storyline? No problem. You can control the behaviour of the LearnDash Mark Complete button using Tin Can and SCORM statements.
Not using SCORM or Tin Can? We've got you covered
Tin Canny adds comprehensive LearnDash reporting features to your LearnDash site. As soon as you sign in as an administrator, you'll see a new dashboard widget that shows learning activity trends. From there, check out the Course report to see where learners are across all of your courses. (With our handy Pro Toolkit installed, you can even see how long it's taking users to complete courses.) From there, drill down into a course to see how your learners are doing, and keep drilling down if you want to see more lesson and quiz level data.
The reports are for LearnDash Group Leaders too! Group Leaders have access to the same reports for users in the groups they support. Even better, Tin Canny allows the Course and User reports to be shown in the front of your WordPress site, making it even easier to keep your Group Leaders in a familiar environment!
Here are some of the ways the Tin Canny plugin can make your LearnDash site better:
Consolidate LearnDash, SCORM, Tin Can/xAPI and H5P data into a single reporting platform to get the clearest picture of learner activities.
Add Storyline, Rise, Captivate, iSpring and other uploaded modules to your courses really easily. Include them in your LearnDash courses as iframe embeds, in a lightbox or new window—whatever works best for you.
Track SCORM and Tin Can/xAPI records from right inside WordPress.
The Tin Canny Reporting plugin adds these features to your LearnDash site:
eLearning Content Uploader with Protection: Upload your modules and display them inside course pages, in a lightbox or in a new window. Modules are automatically protected to block sharing with users not authorized to access the modules.
Tin Can and SCORM 1.2 and 2004 Statement Tracking: Track data for any SCORM and xAPI / Tin Can compliant files (including dispatch files) right inside WordPress.

Mark Complete: Control the Mark Complete button behaviour of LearnDash based on activity inside uploaded modules.
Dashboard Widget: See LearnDash course completion and Tin Can/SCORM statement trends at a glance in your WordPress dashboard.
Course Reports: Monitor course and learner activity at a glance.  Provide front-end access to the reports to LearnDash Group Leaders with a simple shortcode.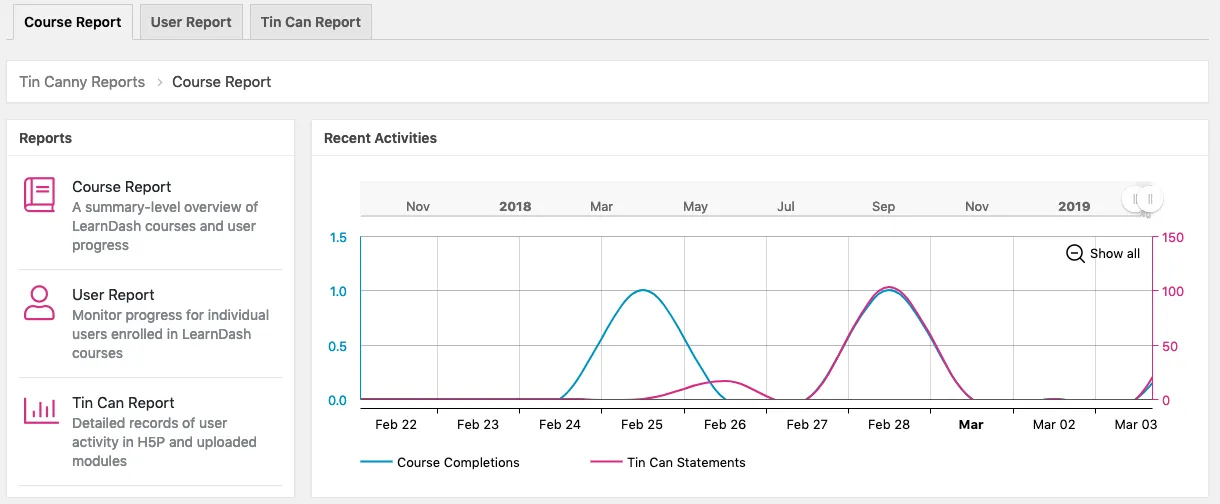 Detailed Drill Down User Reports: Drill down to review LearnDash, Tin Can and SCORM activity by individual user and course.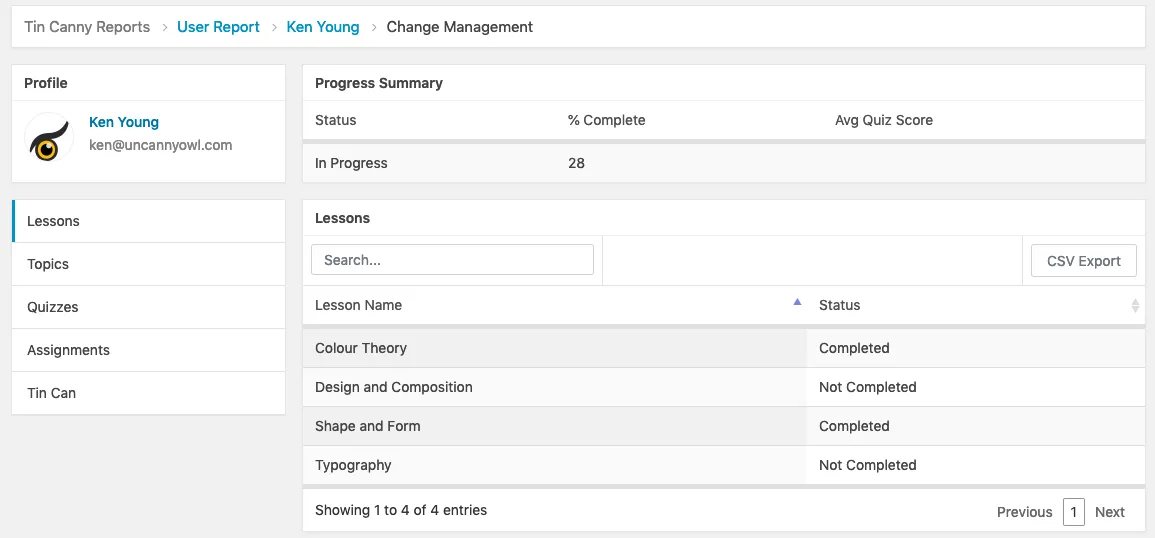 Front End Quiz Reports:  Reports that combine both LearnDash quiz scores with SCORM/xAPI scores recorded in Tin Canny to present a consolidated view of test data for Group Leaders, Administrators or Students.
LearnDash Quiz Question Analysis: Analyze multiple choice questions to see the breakdown of answer selections. Assess question quality and see where students are making mistakes in LearnDash quizzes.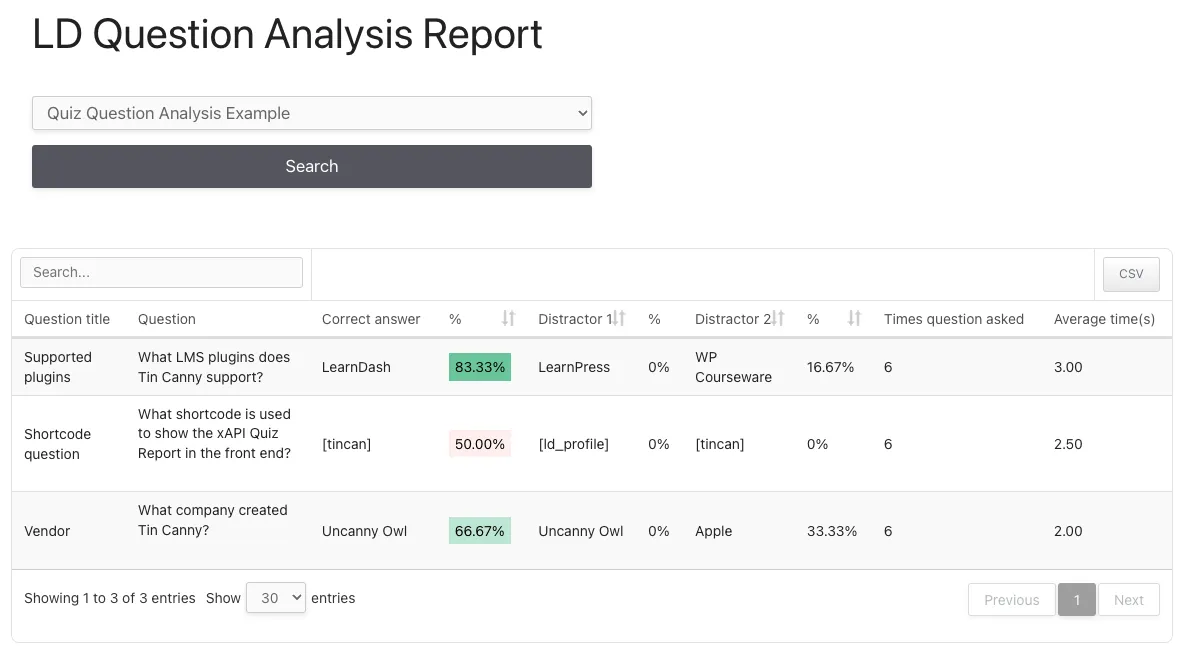 Our customers love Uncanny Owl plugins for LearnDash sites
Our LearnDash plugins power over 35,000 elearning sites. With a Help Desk Happiness rating of 95 and a 4.9/5 average plugin rating on WordPress.org, we have an unparalleled reputation in the LearnDash community.
"I have 3 of your plugins and love them!" - Vicky T.

"Thank you - I love your plugins." - David C

"We love your work!" - Lucas W.

"Thanks for the wonderful plugins!" - Shen S.