We've had some big 3.0 plugin releases over the last few weeks, but today's Tin Canny release is the biggest overhaul yet. It's basically a complete rewrite of the reporting engine to improve performance and scalability on larger sites, with lots of smaller improvements and new features thrown in to round things out. Almost everything about reporting is now different, so if you're an existing user, we highly recommend testing on a Staging site first.
Beyond the improvements behind the scenes, there's a lot different on the front end too—starting with a complete redesign of all reports and charts. They're far more mobile-friendly and easy to use.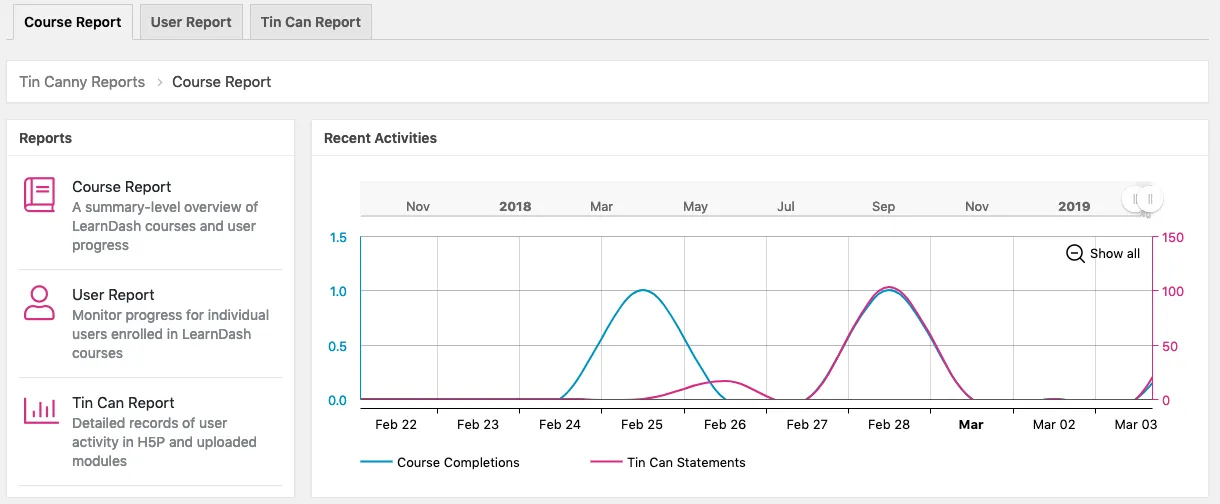 Breadcrumb links are new, and now individual user reports include Gravatar images if available for your users. This helps to personalize reports and make them more visually appealing.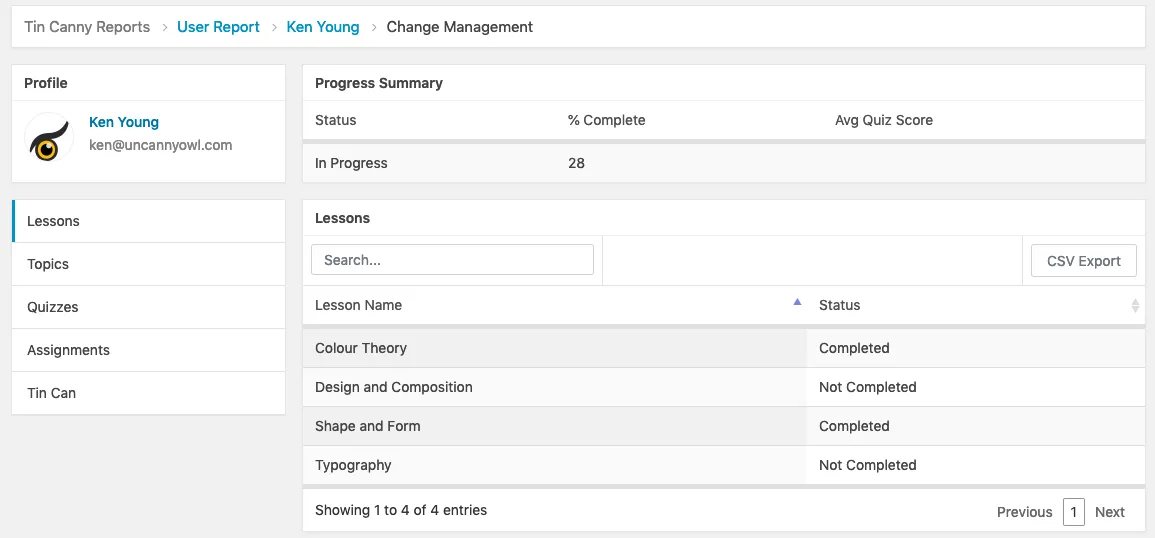 Tin Canny hadn't yet fully supported Adobe Captivate 2019, but now it does! The 3.0 release of Tin Canny will help you get more out of Captivate on your LearnDash sites—as will even more controls over resetting Tin Canny SCORM and xAPI records. Tin Canny 3.0 supports purging records for individual users. For testing purposes or clearing bad data, this is going to be a big help to a lot of sites that need to reset user records independently.
Rounding out the list of new features, Tin Canny users can now disable the Tin Canny dashboard widget to improve load times, and more Gutenberg block support has been added for the quiz reports.
Tin Canny 3.0 includes dozens of other behind-the-scenes improvements, including:
Support for additional H5P module types
Better navigation between reports, like going from Course > User > Course report for a user instead of Course > User > Course List > Course report
Improved compatibility with MySQL 8
Better notices when no data is available
Better translation support
Better consistency of data across courses and groups
For a full list of the changes, make sure to read the changelog at https://www.uncannyowl.com/knowledge-base/tin-canny-learndash-reporting-changelog/.
Existing users: Please do consider testing this on a Staging or Development site before you deploy the release on your live site. Tin Canny 3.0 has been through a lot of internal testing but there may still be slight differences in report output compared to what you're used to.
https://www.uncannyowl.com/wp-content/uploads/2019/03/tin_canny_course_report.png
504
1220
Ryan Moore
https://www.uncannyowl.com/wp-content/uploads/2016/04/uncannyowl-logo-600.png
Ryan Moore
2019-03-06 16:37:06
2019-03-06 16:37:06
Tin Canny 3.0